Recipe Blog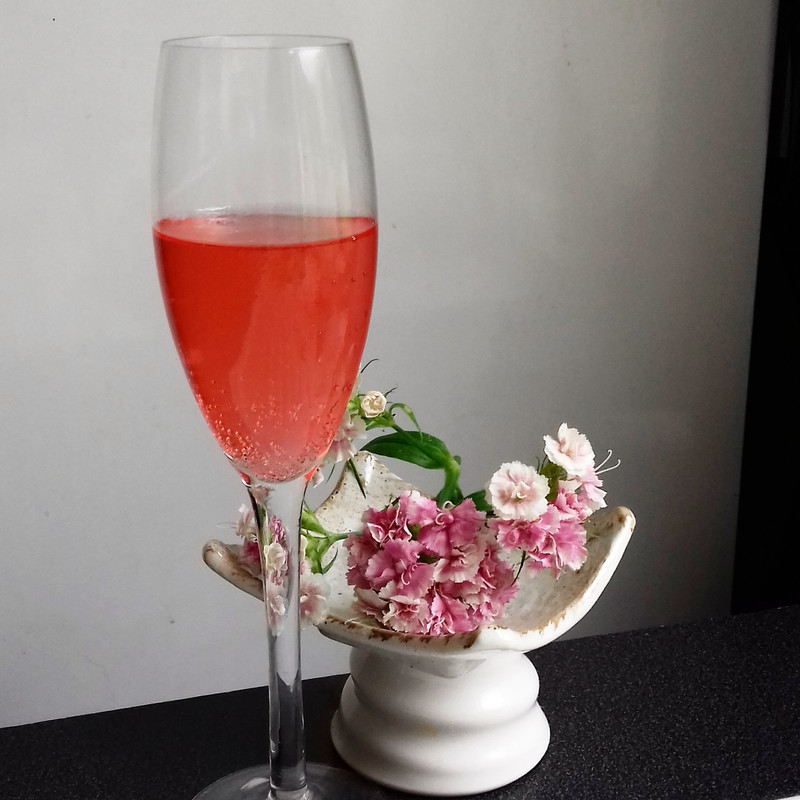 Recipes
Rhubarb Soda
Ingredients/utensils
5 large stalks rhubarb.

3/4 cup of honey (local if you can) or sugar if you wish.
2 Tablespoons of homemade sauerkraut juice.
2 liters of filtered water
A demijohn with an airlock, and some swing-top bottles or strong plastic screw top bottles
Stainless steel pot
Method
1) Chop the rhubarb into pieces and put in a pot.

2) Cover the rhubarb in the pot with water, and bring to a simmer, simmer until the rhubarb is tender about 20 minutes don't worry if it goes soft this is what you want, then cool.
3) Strain out the juice from the rhubarb.
4) Then add the honey and stir until dissolved, the honey/sugar will create the gas/fizz
5) Pour the "juice" into a sterilized demijohn and add the sauerkraut juice then fit your airlock.
6) Let it sit for about four-five days, it can fermented pretty quickly if the room is quite warm.
7) When you see small bubbles starting to form on the top of the juice it's time to bottle
8) Pour the juice into your swing-top/plastic bottles, and store in the fridge.
9) Leave them for a 7-10 days
Notes
The longer you leave your Rhubarb soda the stronger alcohol content will become
Paleo Gummy bears

Ingredients

1 cup Beef/Chicken broth
2 tbsp grass-fed gelatin
Silicone candy molds or glass baking dish
Method

Pour the broth into small saucepan. Heat gently until the broth is very warm but not boiling.
Turn off the heat, and slowly pour the gelatin into the broth while whisking until it's incorporated.
Repeat with the other tablespoon of gelatin.
Pour the mixture into silicone molds or glass baking dish that's been very lightly greased with coconut oil.
Don't grease the silicone molds if you decide to use those.
Refrigerate the Gummy Snacks for at least 2 hours, then pop them out of the molds.
If you can freeze them for 15 minutes before you try to unmold.
Keep these gummy snacks refrigerated in a covered container.
They keep for up to 5 days in the fridge.
Oxtail Asam Pedas
This is a dish from Malaysia, hot and spicy great for a winters day
600 gm Oxtail cut into steaks
16 gm beef dripping or oil
100 gm onion blended
25 gm fresh ginger blended
25 gm garlic chopped
80 gm chilli boh or chilli paste
16 gm chilli powder
25 gm turmeric powder
100 gm candle nuts blended
5 gm lime leaf
30 gm tamarind juice
1/2 lemon grass stick crushed
5 gm galangal
500 ml water
salt to taste
Method
For the blended ingredents just add them to the blender and blend with a little oil for 1-2 minutes until like a paste, the candle nuts should be blended separately.
1) Slowly cook the blended ingredents in the dripping until soft and fragant, except the candle nut
2) Add the chilli boh, chilli powder, turmeric and candle nuts and stir making sure the ingredents do not stick or burn
3) While stirring add the turmeric leaf, galangal, lemon grass, tamarind juice and lime leaf.
4) Add the oxtail and water and simmer in the oven until the meat is soft ( usually 3 hours)
This dish is normally served with white rice, but you could use steamed sweet potatoes as I do
_______________________
Aromatic braised beef cheeks with gingered sweet potatoes
This is a great recipe for a cold winters day and easy to make

6 pieces of beef cheek

250 mls Beef bone broth
1 onion chopped
1 small clove of garlic chopped
1 stalk lemongrass
1 star anise
zest of half an orange
2 cardamon pods
Pre heat the oven to 180c

Brown the beef cheeks in a pan using some good beef dripping, remove the cheeks from the pan, then add the onion, garlic, lemongrass, star anise, cardamon and orange zest,
Cook until the onions and garlic are soft making sure not to burn the other ingredients.
Heat the beef broth in a pan.
Transfer the beef cheeks to an ovenproof dish with a lid, cover with the beef broth and the remaining ingredients and braise in the oven for one and half hours
For the gingered potoatoes

2 large sweet potoatoes peeled and diced
150gm butter
4 tablespoons grated fresh ginger
130ml coconut milk or cream, heated
sea salt and freshly ground pepper
Cook the sweet potato in a steamer until tender. Meanwhile heat 60gm of butter in a saucepan, add the ginger and gently cook for a few minutes without browning.

Once the sweet potato is tender push the sweet potato and ginger through a sieve with the back of a wooden spoon.
Whisk the remaining butter into the sweet potato mixture until melted then at the hot coconut milk/cream until you have a creamy potato.
Place the gingered sweet potato on a warm plate and the braised beef cheek on top.

____________________
ROAST CHICKEN WITH HONEYED BEETROOT
A great meal for all the family
Ingredients
1 Medium size free range chicken
6 large beetroots
3 tbsp dripping
2 tbsp clear honey
3 sprigs of fresh thyme or oregano
50ml beef broth
50gm cold diced unsalted butter
Salt and pepper to taste
Method
Pre heat the oven to 200c
Put the unpeeled beetroot in a pan, cover with water and bring to the boil (do not add salt as this will make the beetroot lose some of it's lovely colour), cook for 10 minutes, remove from the pan and allow to cool, then cut into quarters or dice.
Heat the dripping in a large roasting pan, add the chicken to the pan and roll it in the dripping, then add the beetroot & thyme, place into the preheated and roast for an hour and 15 minutes.
Once cooked remove from the oven and lift the chicken up and drain all the juices into the pan with the beetroot, put the chicken on a plate and keep warm.
Drain all the juices and beetroot into a large pot, add the honey and beef broth, bring to the boil, cook over a high heat until all the broth has evaporated, remove from the heat and add the cold butter, stir until the butter is melted, season to taste.
Carve the chicken and serve on top of the beetroot.
I like to serve this dish with roasted white sweet potatoes.
___________________________
STICKY RED ONION MARMALADE
Great to serve with meat, fish or vegetables.
Ingredients
4 red onions finely sliced
1 clove of garlic chopped
1tbsp of beef dripping or ghee
2 tbsp of clear honey
Zest of 1 lemon or orange
1 sprig of fresh oregano chopped
100ml or half a cup of bone broth.
Method
Fry onions and garlic in dripping or ghee over a low heat for 15 mins.
Add zest of lemon/orange, oregano,honey and cook for a futher 5 mins until sticky.
Add bone broth and cook until evaporated stiring occasionally.
Serve as a topping for burgers, steaks or grilled fish and vegetables.
_____________________
EGG DROP SOUP
This is a quick recipe, great for using up egg whites after making mayonnaise.
It's also great when visiting a non Paleo house as it's so easy to make and your friends don't need to worry about what to cook. In fact everyone can enjoy it!
Ingredients
200 ml beef broth
1 free range egg or egg white
Chopped chives or spring onions
Freshly milled black pepper
Method
Place the beef broth in saucepan and boil for 30 seconds.
Add chopped chives/spring onions, black pepper and simmer for 1 minute.
Crack the egg into a bowl and give it a whisk, then add the raw egg to the simmering broth, give the broth a quick stir, bring the broth to a simmer for one minute and serve in a warm bowl.
You can add any herb you prefer instead of chives.
_______________________
GINGER BEEF SNAP PEAS & SHALLOTS
This is like a typical Asian recipe but without the soya sauce, the reduced beef broth takes the place of the soya or oyster sauce.
Ingredients
450 g Beef Strips, buy a tender cut if you can (rump)
500 gm Sugar snap peas, trimmed and blanched
100 gm Sliced shallots or Onions
300 ml Beef broth
70 gm Chopped coriander or parsley
5 gm Finely chopped garlic
15 gm Grated fresh ginger
2 tsp Beef dripping
5 gm Finely chopped red chilli
1 Small piece of star annis (Optional)
Method

In a wok or nonstick frying pan, heat 2 tsp beef dripping over high heat, stir-fry the beef until pink in the middle for about one minute then remove from wok/frying pan & place on a plate.
In the same wok/frying pan add shallots, garlic, ginger, star annis & chilli, fry over a low heat until soft, about 3-4 minutes.
Add beef stock and reduce by half.
Add the pink beef to wok/frying pan , then add suger snap peas & coriander, bring to boil and serve straight away. (if you wish your beef well done reduce heat and simmer for about 2 minutes but add the suger snap peas & coriander 1 minute before serving.)
This dish is great with steamed white sweet potatoes.
You can also serve the beef with a crisp salad.
________________________
Glazed duck breast with mango, chilli and butternut squash
Ingredients

2 Duck breasts
1 tsp honey
1 butternut squash diced into 2cm cubes
2 red chilles finely diced without the seeds
1/2 mango cut into small dices
200ml Beef broth
The zest of 1 lime
2 tbsp goose fat or dripping
25gm unsalted butter
Method
Preheat the oven to 170c
Mix the honey, chilli & lime zest
Heat a pan with the goose fat and brown the duck breasts on each side for 3 minutes.
Remove the duck breasts and rub with the honey mixture, then place the duck breasts in the oven and cook for 4 minutes, remove the duck from the oven and place on a rack for 3-4 minutes.
Pour the beef broth into the duck pan and bring to the boil, add the butternut squash and cook until soft (4-5 minutes), remove the pan from the heat and stir in the butter.
Divide the squash and sauce between 2 plates, slice the duck breasts and place on top of the squash, and sprinkle over the diced mango and serve